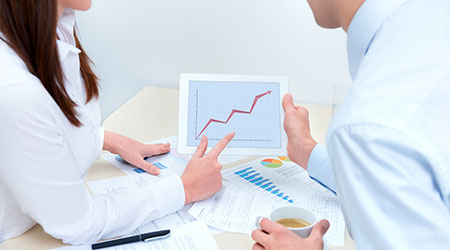 Spending time and energy on prospects that are not going to buy will bankrupt you. Starting with a prospect and not having or knowing the process that gets them to "yes" will always keep you chasing new leads instead of closing deals. Neither is good for business.
Having a sales strategy is critical — understanding who will buy and having a process that you follow to get them to buy. Surprisingly, one of the most common things left out of marketing plans is the sales strategy and the process for moving a prospect through your funnel until they become a customer.
In sales consulting, we examine and discuss strategies that are consistent with your marketing plan and business model. We support you in getting clear about your overall approach and implementing a proven system. The purpose of evaluating your sales strategy and process is to identify and strengthen areas of the process that you might not be measuring or areas for improvement.
Topics can include:
Sales cycle time and recommendations on how to shorten it, increasing cash flow and profitability
Evaluating different stages of the buying cycle and what happens at each stage
Key conversion rates for each stage and how you are currently tracking conversion rates and performance of your sales people
Sales representative performance to determine their level of knowledge, ability to adhere to a process and if there will be training needed to implement a strategy and process
Benefits include:
Understanding what to measure to effectively evaluate sales performance
Having and knowing your strategy supporting continued improvement in sales performance
Having easy to use tools, systems, 

and documented processes to support effective sales and sales training

Knowing exactly how to measure sales team and sales representative performance
Resources:
Sales Daily Accountability – Creating a new behavior is simply a matter of creating a new habit and new structure for that habit. Changing your behavior is not about will power!
Sales & Marketing Actions –  Accountability and tracking
Get the Total Transformation
Don't just solve one part of the problem. Be the solution. At People Biz, Inc., we offer Total Solutions, a comprehensive program that provides clients with the resources they need to lead based on the Transformational Leadership Principle. This program also provides the tools, resources and expertise to achieve total transformation in every aspect of their lives.