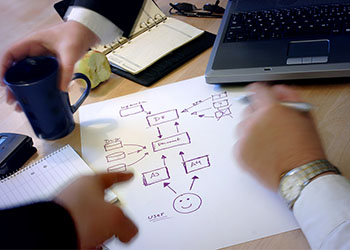 Is your human resource department managing everything from recruiting and hiring to training and development?
Do you have critical organizational development needs but lack the necessary training and resources to implement them?
Human Resources professionals are generalists in nature and not trained to conduct employee training and development. An organizational development consultant is a trained professional able to maneuver these situations with ease, leaving you and your HR team free to do what you do best.
What is Organizational Development?
Organizational Development (OD) is a deliberately planned, organization-wide effort to increase an organization's effectiveness, efficiency, and enable the organization to achieve strategic goals. We've seen many organizations try to hand these responsibilities over to Human Resources, who are generalists in nature, which can greatly hinder the growth and development of the company.
We offer onsite organizational development consulting that focuses on developing the structures, systems, processes, and people within the organization through a variety of activities, including assessments, executive and employee development and coaching, process improvement, team development, and much more.
Areas of expertise include:
Change management
Temporary HR partner
Recruiting and Hiring Infrastructure
Building Consensus
Creating Effective Teams
Culture Shifts
Leadership Development
If you're looking for support in addressing your critical organizational development needs, contact us at 512-989-2239 or
Get the Total Transformation
Don't just solve one part of the problem. Be the solution. At People Biz, Inc., we offer Total Solutions, a comprehensive program that provides clients with the resources they need to lead based on the Transformational Leadership Principle. This program also provides the tools, resources and expertise to achieve total transformation in every aspect of their lives.