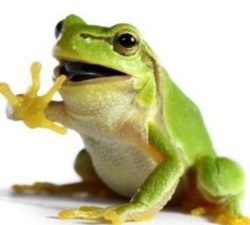 People Biz Business Coaching Client, Lynnette Leathers, wrote an article based on a simple principle she learned from her Business Coach, Alicia Marie.
"My goal this afternoon was to write an article about five frogs. My long-term business coach, Alicia Marie the owner of People Biz taught me about identifying five frogs and then eating them every day. It's metaphorical, of course. She also sent me a book years ago called, "Eat that Frog! 21 ways to stop procrastination and get more done in less time" by Brian Tracy. In the book it points out that, "Mark Twain once said that if you eat a live frog first thing in the morning and nothing worse will happen to you the rest of the day."
Your biggest frog according to Tracy is your most important task. Alicia recommends practicing the principle of starting your day by eating 5 frogs because you can get those things that you are likely to put off out of the way first and give them a chance to make a difference.  It's one of the daily rituals that has helped my business to grow over the last 10 years.
Most days, I start my day by doing the 5 things that I would rather not do – at least not right then. Sometimes it is following up with a client for the third time and not wanting to pester them. Then, once I call, I usually find that people are very busy right now and they are grateful someone is persistent about managing the schedule and following up. Some days it is looking at numbers and making sure I am doing my due diligence. However, I find most of the time the things that I am putting off are about communication or technical issues.
I know tomorrow that one of our printers is offline and I have our IT person in for the morning fixing it and checking for any other technical errors. Also the battery in one of our laptops has reached its useful life and needs to be replaced. Ensuring everything is running properly is always a frog for me. I tend to lack patience and like many other professionals in today's business world – I just expect things to work. Everything requires maintenance to continue to work – whether it's an update to software or taking your car to get the oil changed. It's all got to be done or sooner or later it will catch up to you. And, when it does it is never convenient.
Occasionally, like this afternoon there are what I like to call "flexible frogs" otherwise known as snakes. Snakes are the things that happen that get in the way of our plans some days. In my case today, it was a real snake, which seems a bit ironic. I like to write from my home office and today I dedicated time today to write – it was one of my frogs! I felt like I was being watched this afternoon and looked up to find that a snake was in the window blinds and looking over my shoulder.
Even though I am originally from Montana and spend a lot of time outdoors in Florida, I could not readily identify the snake.  I phoned a friend and we used a selfie stick to get a photo of the snake (really – look at the photo below). In all practicality, and with a little bit of secondary research from my friends and Facebook we have determined it was not poisonous and that it was a yellow rat snake. With a little help from my friends the snake was extracted from the housing of the window blinds and set free.
The snake became priority over a couple of my frogs today. It's not business critical but if not remedied it would take more time later and potentially cause harm to itself, pets or others in the wrong environment. Plus, seems like it should get back to work catching rats!
Overall the Three key points I'm making are:
-Do the 5 things that you don't want to everyday but know that you should
– Plan ahead and identify tomorrow's frogs today
-Be flexible enough to manage only the business or (life) critical issues like snakes before you get to the frogs
Now that my day is wrapping up- I am writing out the 5 frogs that I will start my day with tomorrow morning. Although, I am truly hoping for no real snakes tomorrow."
Article by Lynnette Leathers, Principal owner of Mindspot Research and Wildlife Enthusiast
About Mindspot
Mindspot is a team of strategists, social scientists, researchers, thinkers, storytellers, artists and even some dreamers. We believe great strategy is informed by great data. Great data is driven by great questions. Good is the enemy of great and GREATNESS is what makes companies sustainable.  Find out more!