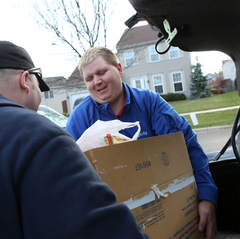 People Biz, Inc. would like to recognize, Fast Track participant, Kris Shoenberger for his humanitarian efforts in helping the tornado victims in Wildwood, Illinois this past month.
When the EF-1 tornado hit a neighboring community, Kris wasted no time at all getting his catering truck ready and set-up to provide free food and beverages to thousands of people who were instantly without power and/or displaced from their homes and the workers who have been working around the clock trying to get the community back to some level of normalcy.
The city has now concluded their tornado relief efforts, and the town has been completely cleaned up with no assistance from FEMA, Red Cross, or the Salvation Army. Kris and his company, BBQ'd Productions served just over 6,600 meals in a week.  Always willing to help others, Kris was also involved in helping those affected by hurricane Sandy in 2012, where he served over 5,000 meals.
When asked about his efforts, Kris said, "It was a small town coming together to help each other. After I fed all the victims of hurricane sandy, I learned how much of a difference doing what we did can make to people. We hope one day other business owners see what we did and can do the same thing for their community!"
People Biz is honored to work with business owners like Kris and would like to recognize him for his dedication to making the world a better place!